LA FORMACIÓN DEL GESTOR AMBIENTAL Y EL MERCADO DE TRABAJO: ¿FORMAR PARA QUÉ? ¿TRABAJAR EN QUÉ?
Keywords:
Empleabilidad, Gestión ambiental, Investigación bibliográfica.
Abstract
Este artículo versa sobre la problemática de la formación en Gestión Ambiental y su mercado de trabajo, que a pesar de existir y ser prometedor, no solo ha negado empleabilidad a estos formando, en su mayoría, como también, dado ocupación a otras profesiones.  La metodología aplicada a la adquisición de datos es derivada de la investigación bibliográfica y de observación de campo.  Con el resultado obtenido de la reflexión contenida, se llega a la conclusión de que existe la necesidad de mejorar la formación en lo que se refiere a prácticas y vivencias, así como, conocimientos e interacciones con las reales necesidades de gestión ambiental en su complejidad y variedad.  De esta forma, como recomendación, se cree en la muestra social de las funciones de este profesional, y en el mejor aprovechamiento de sus servicios.
Downloads
Download data is not yet available.
References
ANDRADE, D.C.; ROMEIRO, A.R. Serviços ecossistêmicos e sua importância para o sistema econômico e o bem-estar humano. Texto para Discussão, Campinas, n. 155, 2009.
ANDRADE, D.C.; ROMEIRO, A.R. Degradação Ambiental e Teoria Econômica: Algumas reflexões sobre uma "Economia dos Ecossistemas". Economia, Brasília, v. 12, n. 1, 2011.
BLANCO, G.D. Do paradigma global de modernização ecológica ás apropriações locais: o mecanismo de desenvolvimento limpo (MDL) no Brasil. Porto Alegre, 2013.
BRASIL(a). Resolução CNE/CP nº 3, de 18 de dezembro de 2002. Institui as Diretrizes Curriculares Nacionais Gerais para a organização e o funcionamento dos cursos superiores de Tecnologia. Diário Oficial [da] República Federativa do Brasil, 23 dez. 2002. Seção 1, p. 162.
BRASIL(b). Decreto 4340, de 22 de agosto de 2002. Regulamenta artigos da Lei no 9.985, de 18 de julho de 2000, que dispõe sobre o Sistema Nacional de Unidades de Conservação da Natureza - SNUC, e dá outras providências. Disponível em: http://www.planalto.gov.br/ccivil_03/decreto/2002/D4340.htm. Acesso em: 27 dez. 2018.
CONSELHO FEDERAL DE QUÍMICA. Resolução Normativa nº 259/2015, de 16 de janeiro de 2015. Define as atribuições dos profissionais que menciona e que laboram na área da Química do Meio Ambiente e do Saneamento Ambiental. Brasília: Conselho Federal de Química, 2015. Disponível em: http://www.lex.com.br/legis_26544632_RESOLUCAO_NORMATIVA_N_259_DE_16_DE_JANEIRO_DE_2015.aspx. Acesso em: 15 jun. 2017.
DASGUPTA, C. Reflections on the relationship between the "green economy" and sustainable development. In: UNCTAD. The Road to Rio+20: for a development-led green economy. New York; Geneva: United Nations, 2011.
IBAMA (Instituto Brasileiro do Meio Ambiente e dos Recursos Naturais Renováveis). Resolução CONAMA nº 01/1986, de 23 de janeiro de 1986. Brasília: Conselho Nacional do Meio Ambiente, 1986. Disponível em: https://www.ibama.gov.br. Acesso em: 27 dez. 2018.
MADUREIRA. L.; SANTOS, J.L.; FERREIRA, A.C.; ESPINOSA, M.; GOMEZ Y PALOMA, S. A choice-modeling approach to value public goods and externalities of EU agriculture. In: WORKSHOP ON VALUATION METHODS IN AGRO-FOOD AND ENVIRONMENTAL ECONOMICS, 5., 2013, Barcelona. Electronic proceedings of the 137th EAAE Seminar. "Methodological and empirical challenges in Valuation Methods".
MEA (Millennium Ecosystem Assessment). Ecosystem and Human Well-Being: Synthesis. Washington, DC: Island Press, 2005.
MOTTA, R.S. Manual para valoração econômica de recursos ambientais. IPEA/MMA/PNUD/CNPq. Rio de Janeiro. 1997.
NOVION, H.; VALLE, R. É pagando que se preserva?: subsídios para políticas públicas de compensação por serviços ambientais. São Paulo: Ação e Saber, 2009.
PARAÍBA. Lei nº 9.794, de 14 de junho de 2012. Dispõe sobre a obrigatoriedade das empresas de Potencial Poluidor Degradador Médio ou Alto de contratarem responsável Técnico na área ambiental. João Pessoa: Assembleia Legislativa do Estado da Paraíba, 2012. Disponível em: http://static.paraiba.pb.gov.br/2012/06/Di%C3%A1rioOficia16062012.pdf. Acesso em: 30 jul. 2018.
RODRIGUES, J.C.F. Payments for environmental services and control over conservation of natural resources: The role of public and private sectors in the conservation of the Nima watershed, Colombia. Ecological, v. 117, p. 295-302, 2015.
UNEP. Global Green New Deal. Environmentally-Focused Investment Historic Opportunity for 21st Century Prosperity and Job Generation. UNEP Launches Green Economy Initiative to Get the Global Markets Back to Work. Press Release, London/Nairobi: Unep, 2008.
VIANA, V.M. Bolsa Floresta: um instrumento inovador para a promoção da saúde em comunidades tradicionais na Amazônia. Estudos Avançados (Online), v. 22, p. 143-153, 2012.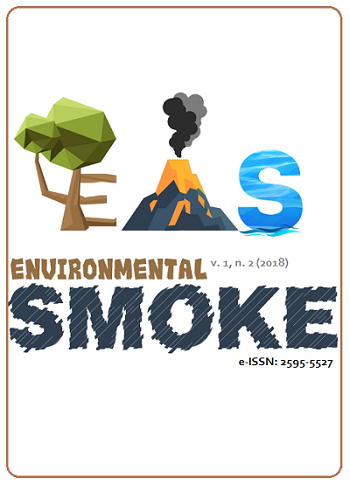 Downloads
How to Cite
Ferreira, R. dos S. (2018). LA FORMACIÓN DEL GESTOR AMBIENTAL Y EL MERCADO DE TRABAJO: ¿FORMAR PARA QUÉ? ¿TRABAJAR EN QUÉ?. ENVIRONMENTAL SMOKE, 1(2), 30–49. https://doi.org/10.32435/envsmoke.20181230-49
Section
Artigos Completos
License
The copyright for manuscripts published in Environmental Smoke belongs to the author, with first publication rights for the journal. The published articles are of total and exclusive responsibility of the authors.