TREATMENT OF A TEXTILE WASTEWATER USING AN ELECTROCOAGULATION REACTOR POWERED BY PHOTOVOLTAIC SOLAR ENERGY
Keywords:
industrial wastewater, turbidity removal, aluminum electrodes, water pollutant, environmental conservation.
Abstract
The textil industry uses a variety of dyes in the stage of coloring. The liquid effluent resulting at the end of the process has high turbidity and a large chemical oxygen demand. If these byproducts are dumped into natural water bodies, even in small quantities, they may produce damage to the aquatic environment and to human health. Electrocoagulation is becoming an efficient technique for the removal of pollutants from industrial effluents, it is easy to operate, and produces little sludge at the end of the treatment. In the present study, the use of an electrocoagulation reactor with aluminum electrodes proved efficient for turbidity removal from synthetic industrial effluents. The use of a solar plate of photovoltaic electricity for the functioning of the reactor was evaluated. Ideal time of treatment was 20 minutes. The use of a conventional energy source removed 63% of the turbidity. Using the voltaic solar energy source, a removal of 72% of turbidity was attained. We conclude that it is possible to use the alternative solar energy source in order to minimize costs resulting from electrical energy consumption, and, at the same time, to obtain the best results in the removal of pollutants.
Downloads
Download data is not yet available.
References
APHA. AWWA, WPCF. Standard methods for the examination of water and wastewater. 21st ed., Washington, DC, American Public Health Association, 1325 p., 2005.
BRASIL. Ministério do Meio Ambiente, Conselho Nacional do Meio Ambiente, CONAMA. Resolução n. 430, de 13 de maio de 2011 In: Resoluções, 2011. Available at:< www.mma.gov.br > accessed: 21. abr. 2016.
CERQUEIRA, A. A. Aplicação da técnica de eletrofloculação no tratamento de efluentes têxteis. Rio de Janeiro: Universidade do Estado do Rio de Janeiro. Dissertação (Mestrado) 111p., 2006.
CERQUEIRA, A. A.; MARQUES, M. R. C.; Electrolytic treatment of wastewater in the oil industry. New Technologies in the Oil and Gas Industry, Ed. Rijeka, Croatia: INTECH, chap. 1, 2012.
CHEN, G. Electrochemical technologies in wastewater treatment. Separation and Purification Technology, v. 38, p.11–41, oct. 2004.
CRESPILHO, F. N.; SANTANA, C. G.; REZENDE, M. O. O. Eletroflotação: Princípios e Aplicações. Química Nova, São Carlos, v.27, n.3, p.387-392, 2004.
CUNHA, Ana Luíza Xavier Cunha; PEREIRA NETO, Luiz Martins; ARRUDA, Valmir Cristiano Marques; SILVA, Vicente de Paulo; FILHO, Moacyr Cunha; TAVARES, Rosangela Gomes. Tratamento físico-químicos de efluente têxtil utilizando sulfato de alumínio, carvão ativado e Moringa Oleífera (Moringa moringa (L.)). Revista Geama. v. 5, n. 3, p. 47-55, 2019.
DIAS, Fernando F.; SILVA, Pedro B. V.; SANTOS, André F. de M. S.; ANDRADE, José G. P.; ALBUQUERQUE, Izabelle L. T. Tratamento de efluente têxtil através de processo oxidativo avançado (H2O2/TiO2/UV). Revista GEAMA, v. 4, n. 3, 2018.
EZECHI, Ezerie Henry; AFFAM, Augustine Chioma; MUDA, Khalida. Principles of electrocoagulation and application in wastewater treatment. DOI: 10.4018/978-1-7998-0369-0.ch017.
FORNARI, Marilda Menchon Tavares. Aplicação da técnica de eletro-floculação no tratamento de efluentes de curtume. Centro de engenharias e ciências exatas. Toledo – Paraná, 2007.
HAKIZIMANA, Jean Nepo; GOURICH, Bouchaib; CHAFI, Mohammed; STIRIBA, Youssef; VIAL, Christophe; DROGUI, Patrick; NAJA, Jamal. Electrocoagulation process in water treatment: A review of electrocoagulation modeling approaches. Desalination, v. 404, p. 1-21, 2017.
KOBYA, M.; HIZ, H.; SENTURK, E.; AYDINER, C.; DEMIRBAS, E. Treatment of potato chips manufacturing wastewater by electrocoagulation. Desalination, v. 190, n. 1-3, p. 201-211, 2006.
KOBYA, M.; HIZ, H.; SENTURK, E.; AYDINER, C.; DEMIRBAS, E. Treatment of potable water containing low concentration of arsenic with electrocoagulation: Different connection modes and Fe–Al electrodes. Separation and Purification Technology, p. 283–293, v. 77, n. 3. 2011.
LOPEZ, R. A. Energia Solar para produção de eletricidade. São Paulo: Artliber, 2012.
MACEDO, J. A. Métodos laboratoriais de análises físico-química e bacteriológica. 2nd. ed. Belo Horizonte: CRQ-MG, 2002.
MOUSSA, Dina T.; EL-NAAS, Muftah H.; NASSER, Mustafa; AL-MARRI, Mohammed J. A comprehensive review of electrocoagulation for water treatment: Potentials and challenges. Journal of Environmental Management. v. 186, p. 24-41, 2017.
MOUEDHEN, G.; FEKI, M.; WERY, M. de P.; AYEDI, H. F.; Behavior of aluminum electrodes in electrocoagulation process. Journal Harzad. Mater. v. 150, n. 1, 2008.
ORTIZ, Juan. M.; EXPÓSITO, Eduardo; GALLUD, Francisco; GÁRCIA, Vicente; LADAZ, Antônio. Electrodialysis of brackish water powered by photovoltaic energy without batteries: direct connection behavior. Desalination, v. 208, p.89-100, 2007.
PALÁCIO, Soraya Moreno; PASTORIZA, Mayara Cereja; MANENTI, Diego Ricieri; BORBA, Fernando Henrique; QUINONES, Fernando Rodolfo Espinoza; Aparecido Nivaldo, MÓDENES. Tratamento de efluente de cromagem por eletrocoagulação com eletrodo de aço inoxidável e Eletrodo misto de aço inoxidável e alumínio. Engevista, v. 15, n. 3, p. 248-254, 2013.
QUEIROZ, Marluce Teixeira Andrade. Reestruturação na forma do tratamento de efluentes têxteis: uma proposta embasada em fundamentos teóricos. Gestão e Produtividade, v. 26, n. 1, 2019.
SANCHEZ, L. Calvo; LECLERC, Jean Pierre; TANGUY, G.; CAMES, M. C.; PATERNOTTE, G.; VALENTIN, G.; ROSTAN, A.; LAPICQUE, F. An electrocoagulation unit for the purification of soluble oil wastes of high COD. Environmental Progress, v. 22, n. 1, p. 57-65, abr. 2003.
VALERO, D.; ORTIZ, Eduardo E.; MONTIEL, Vicente; ALDAZ, Antonio. Electrocoagulation of a synthetic textile effluent powered by photovoltaic energy without batteries: direct connection behavior. Solar Energy Materials & Solar Cells, v. 92, p.291–297, 2008.
VIANA, M. R.; Hidráulica aplicada às estações de tratamento de água. 5th ed. – Nova Lima: Imprimatur, 2014.
ZANONI, Maria Valnice; GARATINI, Cláudia C. I. Corantes Têxteis. Química Nova, v. 23, n. 1, 2000.
ZHANGN, Shunxi; ZHANG, Jian; WANG, Wenqing; LI, Furong; CHENG, Xianzhong. Removal of phosphate from landscape water using anelectrocoagulation process powered directly by photovoltaicsolar modules. Solar Energy Materials & Solar Cells, n. 117, p. 73–80, 2013.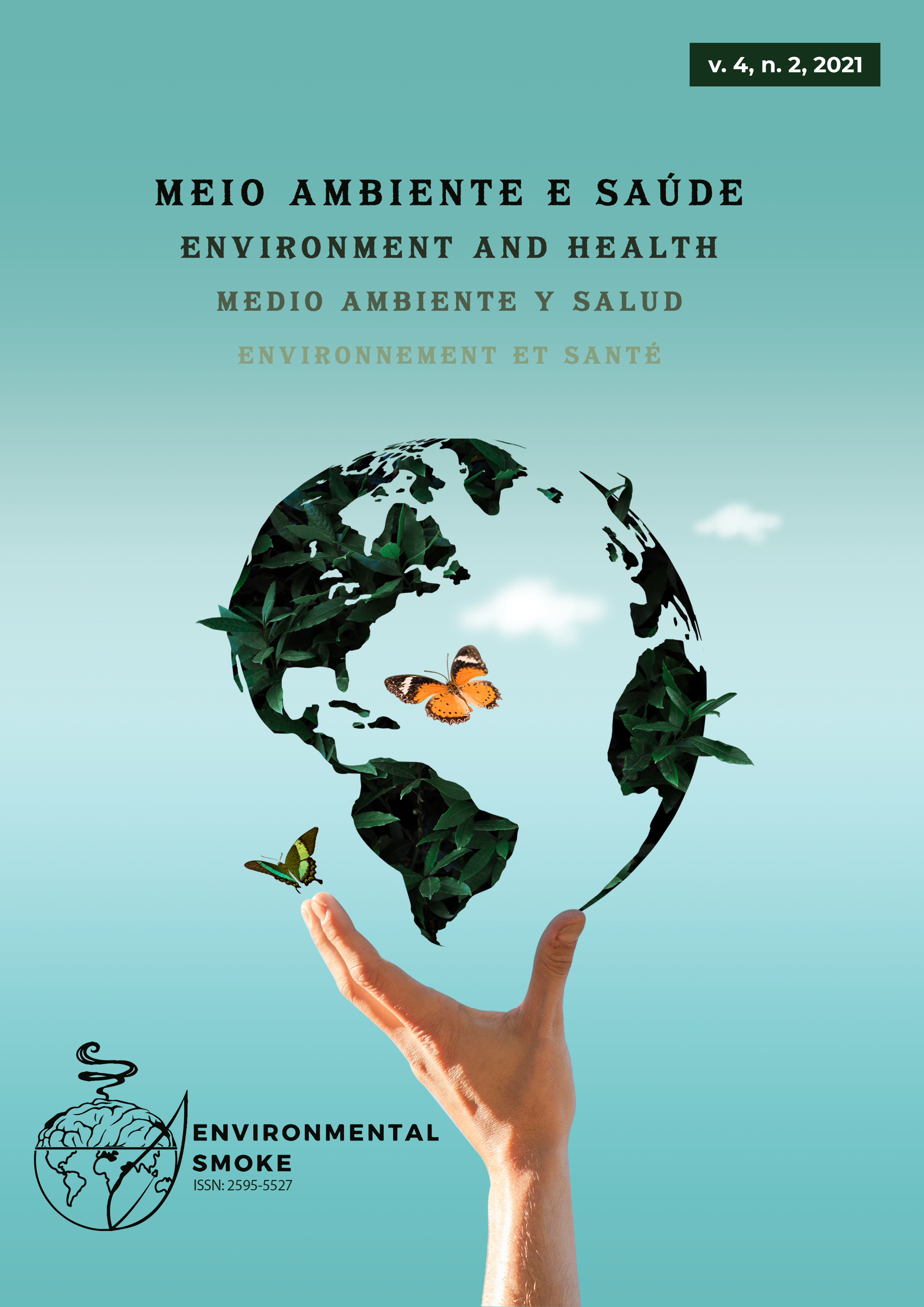 Downloads
How to Cite
De Jesus, E. A., Meneses, J. M., de Araújo, M. A. C., & Christoffersen, M. L. (2021). TREATMENT OF A TEXTILE WASTEWATER USING AN ELECTROCOAGULATION REACTOR POWERED BY PHOTOVOLTAIC SOLAR ENERGY. ENVIRONMENTAL SMOKE, 4(2), 7–14. https://doi.org/10.32435/envsmoke.2021427-14
Section
Artigos Completos
License
Copyright (c) 2021 Edson Alves De Jesus, Janaina Moreira Meneses, Marcos Alexandre Cavalcante de Araújo, Martin Lindsey CHRISTOFFERSEN
This work is licensed under a Creative Commons Attribution 4.0 International License.
The copyright for manuscripts published in Environmental Smoke belongs to the author, with first publication rights for the journal. The published articles are of total and exclusive responsibility of the authors.