TRAUMA FOR THE USE OF MALADAPTIVE PROSTHESIS: CLINICAL CASE REPORT
Keywords:
Prosthesis, Surgeon, Dentistry
Abstract
The purpose of this study is to address traumas in the oral cavity due to the use of removable or total prostheses, that either fit poorly into the oral cavity or are  incorrectly sanitized by the patient. We highlight the need for a Surgical Dentist to perform possible corrections, and to perform a follow-up of the patient after the procedure. It is noteworthy that lesions such as ulcers and gum overgrowths can be avoided satisfactorily if the dental surgeon is able to perform an adequate treatment after the installation. A dental surgeon should be qualified to establish the real need for correction. His close interaction with the patient is the main point for the success of the work.
Downloads
Download data is not yet available.
References
REFERENCES
CARR, A.B; MCGIVENY, G.P.; BROWN, D.T. Removable partial prosthodontics. 11. ed., Missouri: Elsevier Mosby, 2005.
CONTI, P.C.R.; VALLE, A.L.; FERREIRA, P.M.; CONTI, J.V.; CURY, M.M.; TORRES, S.C. Avaliação clínica da condição de coroas totais e próteses fixas com mais de um ano de permanência na boca. Revista de Odontologia, Universidade de São Paulo, São Paulo, v. 5, n. 1, p. 25-28, 1991.
DESPLATS, E.; KEOGH, T. Protesis parcial removible. 1 ed. Madrid: Harcourt; 1998
GOIATO, M.C.; CASTELLIONE, L.; SANTOS, D.M.; GENNARI FILHO, H.; ASSUNÇÃO, W.G. Oral injuries caused by the usage of removable prosthesis. Pesquisa Brasileira em Odontopediatria e Clínica Integrada, v. 5, n. 1, p. 85-90, 2005.
GONÇALVES, L.F.F.; SILVA NETO, D.R.; BONAN, R.F.; CARLO, H.L.; BATISTA, A.U.D. Complete and partial removable dentures cleansing methods, Revista Brasileira de Ciências da Saúde, João Pessoa, v. 15; n. 1, p. 87-94, 2011.
TELES, J.A.C.F. Lesões na cavidade oral associadas ao uso de prótese parcial removível. 46 f. Monografia (Licenciada em Medicina Dentária)–Universidade Fernando Pessoa, Porto, 2010.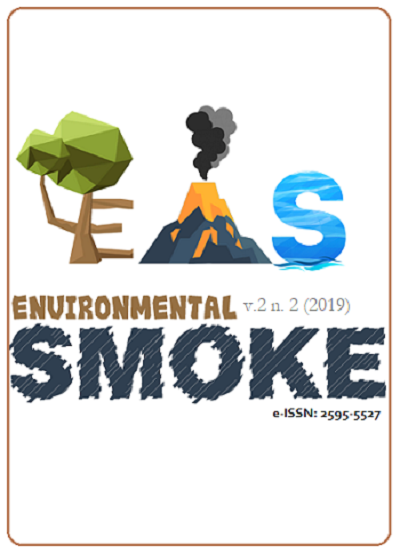 Downloads
How to Cite
Monguilhott, R. G. M. de T., Dantas Neto, J. C., Nascimento, R. D. F. do, Figueiredo, V. M. G. de, & Christoffersen, M. L. (2019). TRAUMA FOR THE USE OF MALADAPTIVE PROSTHESIS: CLINICAL CASE REPORT. ENVIRONMENTAL SMOKE, 2(2), 78–83. https://doi.org/10.32435/envsmoke.20192278-83
License
The copyright for manuscripts published in Environmental Smoke belongs to the author, with first publication rights for the journal. The published articles are of total and exclusive responsibility of the authors.