CULTURE ET ENGRAISSEMENT DE TILAPIAS AVEC REUTILISATION DES DECHETS DANS LES POTAGES
Keywords:
Pisciculture, La durabilité, Nord-est du Brésil.
Abstract
Actuellement, le marché de la pisciculture est vaste et présente un fort potentiel de croissance. Seulement entre 2005 et 2010, la production nationale de poisson en captivité a augmenté de 86,3% pour atteindre 479 000 tonnes. Selon l'Organisation des Nations Unies pour l'alimentation et l'agriculture, le Brésil est capable de produire de manière durable 20 millions de tonnes de poisson par an. La pisciculture représente actuellement 33,5% de la production de poisson du pays. Le Nord-Est est le deuxième plus gros producteur de poisson d'eau douce du pays, principalement en raison de la quantité apparente de barrages existants, en plus des programmes "poisson" développés avec le réduire les effets de la sécheresse. Le présent travail a pour objectif de présenter des informations sur des techniques alternatives telles que la réutilisation de l'eau dans la production de Tilapia du Nil, en tenant compte du problème de la pénurie d'eau dans la région Nord-est; montrant à leur tour les variables et les éléments analysés pour la recherche, ainsi que certaines caractéristiques de l'espèce: croissance rapide, habitudes alimentaires via les éléments de base de la chaîne alimentaire. Par ailleurs, les différents systèmes de production et leurs principales différences sont abordés car ils varient en fonction du degré d'interférence de l'éleveur dans l'environnement aquacole (densité de stockage, pratiques de gestion et utilisation des intrants, modifications de l'eau dans l'élevage, productivité) étant classés comme extensifs, semi-intensifs et intensif. Enfin, les pratiques et procédures utilisées dans l'expérience sont exposées, permettant une série de résultats, coûts et faisabilité pour la production commerciale de Tilapia du Nil dans le Nord-est du Brésil.
Downloads
Download data is not yet available.
References
ALMEIDANETO, M.E.; SILVA, M.A.S.; RAMIRO, B.O.; MAGALHAES, J.A. Desempenho de policultivo entre tilápias (Oreochromisniloticus) e camarões de águadoce (Macrobrachiumrosenbergii) emBananeiras, região do brejoparaibano. In: Aquaciência, 2014, Foz do Iguaçu. Anais do Aquaciência, 2014.
BEVERIDGE, M.C.M. Cage Aquaculture. England: Fishing News Books, 1987.
BORGHETTI, J.R.; CANZI, C. The effect of water temperature and feeding rate on the growth rate of pacu (Piaractusmesopotamicus) raised in cages. Aquaculture, v.114, p.93-101, 1993.
CARBERRY, J.; HANLEY, F. Commercial intensive tilapia culture in Jamaica. In: SimposioCentroamericano de Acuacultura, 4., Tegucigalpa, 1997. Cultivosostenible de camarón y tilapia. Tegucigalpa: AsociaciónNacional de Acuicultores de Honduras and The Latin American Chapter of the World Aquaculture Society, 1997.
CASTAGNOLLI, N. Criação de peixes de águadoce. Jaboticabal: FUNEP, 1992.
CASTAGNOLLI, N. Aquicultura para o ano 2000. Brasília: CNPq, 1996.
COLT, J.; MONTGOMERY, J.M. Aquaculture production systems. Journal of Animal Science, v. 69, p. 4183-4192, 1991.
CYRINO, J.E.; CONTE, L.; TilapiculturaemGaiolas: produção e economia. In: José EuricoPossebonCyrino e Elisabeth CriscuoloUrbinati (Eds.). AquaCiência 2004: TópicosEspeciaisemBiologiaAquática e Aquicultura.Jaboticabal: SociedadeBrasileira de Aquicultura e BiologiaAquática, cap. 12, p. 151-171, 2006.
DEGANI, G.; REVACH, A. Digestive capabilities of three commensal fishspecies: carp, Cyprinuscarpio L., tilapia, Oreochromis aureus X O. niloticus, and Africancatfish, Clarias gariepinus (Burchel 1822). AquaticFisheries Management, v.22, p.397-403, 1991.
EL-SAYED, A.F.M. Tilapia culture. Cambridge: CABI Publishing, 2006.
GONZÁLEZ, C.E.; QUEVEDO, E.T. Cultivo de las tilápiasroja (Oreochromisspp.) y plateada (Oreochromisniloticus), cap.XIII. p. 283-299. GOMEZ, H.R.; DAZA, P.V.; AVILA, M.C.C. Fundamentos de Acuicultura Continental. Bogotá: Instituto Nacional de Pesca y Acuicultura, 2001.
HANLEY, F. The digestibiliy of foodstuffs and the effects of feedingselectivity on digestibilitydeterminations in tilapia, Oreochromisniloticus (L). Aquaculture, v.66, p.163-179, 1987.
HUGHES, S.G. All-vegetableproteinfeeds. Feed International, v.14, p.55-60, 1993.
KUBARIK, J. Tilapia on highly flexible diets. Feed International, v.6, p.16-18, 1997.
KUBITZA, F. Tilápia: tecnologia e planejamento na produçãocomercial. Jundiaí: F. Kubitza, 2000.
NUNES, Z.M.P.; LAZZARO, X.; PERET, A.C..Influência da biomassainicial sobre o crescimento e a produtividade de peixesemsistema de policultivo. Ciência e Agrotecnologia, Lavras, v. 30, n. 6, p. 1083-1090, 2006.
ONO, E.A.; KUBITZA, F. Cultivo de peixesem tanques-rede. 3. ed. Jundiaí: Eduardo A. Ono, 2003.
PLANVASF – PLANO DIRETOR PARA O DESENVOLVIMENTO DO VALE DO SÃO FRANCISCO. Programa para o desenvolvimento da pesca e da aquicultura. Brasília: Planvasf, 1989.
PROENÇA, C.E.M; BITTENCOURT, P.R.L. Manual de piscicultura tropical. Brasília: IBAMA, 1994.
SCHMITTOU, H.R. Produção de peixesemaltadensidadeem tanques-rede de pequeno volume. Tradução de Eduardo Ono. ASA – Associação Americana de Soja. Editadopor Silvio Romero Coelho, MogianaAlimentos S.A., 1995.
SOARES, M.C.F.; LOPES, J.P. ; BELLINI, R.; MENEZES, D.Q. A piscicultura no Rio São Francisco: é possívelconciliar o usomúltiplo dos reservatórios?.RevistaBrasileira de Engenharia de Pesca, v. 2, n. 2, p. 69-83, 2007.
VICENTE, I.S.T.; ELIAS, F.; FONSECA-ALVES, C.E. Perspectivas da produção de tilápia do Nilo (Oreochromisniloticus) no Brasil. Revista de CiênciasAgrárias, Lisboa, v. 37, n. 4, p. 392-398, 2014.
ZIMMERMANN, S.; FITZSIMMONS, K. Tilapicultura intensive. In: José EuricoPosseibonCyrino, Elisabeth CriscuoloUrbinati, Débora Machado Fracalosi, Newton Castagnolli (Editores), Tópicosespeciaisempiscicultura de águadoce tropical intensiva, São Paulo: TecArt, cap. 9, p. 239-266, 2004.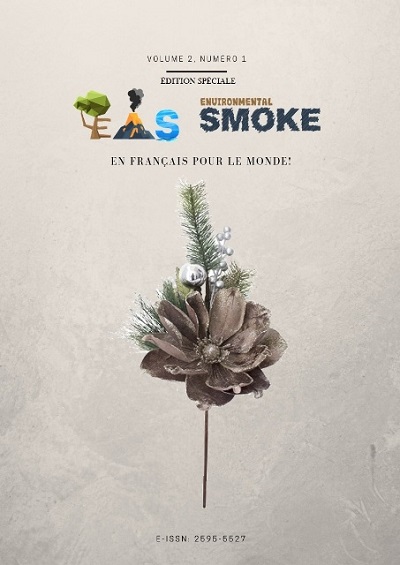 Downloads
How to Cite
Silva, R. L. da, Silva, F. de A. da, Isaza, C. A., Sampaio, A. C. A., Hernández-Galindo, N., & Oliveira, M. O. de. (2019). CULTURE ET ENGRAISSEMENT DE TILAPIAS AVEC REUTILISATION DES DECHETS DANS LES POTAGES. ENVIRONMENTAL SMOKE, 2(1), 21–33. https://doi.org/10.32435/envsmoke.20192121-33
Section
Artigos Completos
License
The copyright for manuscripts published in Environmental Smoke belongs to the author, with first publication rights for the journal. The published articles are of total and exclusive responsibility of the authors.