PAIN MANAGEMENT IN DOGS WITH OSTEOARTHROSIS: A CASE REPORT
Keywords:
Dogs, Pain, Joint degeneration, Osteoarthrosis
Abstract
Degenerative joint disease (DAD) or osteoarthrosis (OA) is a common disease among dogs and is characterized by being progressive, minimally inflammatory and with non-neoplastic neoproliferative alterations, which causes considerable dysfunction in all joint structures with its subsequent failure. Affected animals present lameness, reluctance to move after rest and difficulty in performing certain activities, these being the earliest common signs. The outcome of these diseases can be aggravated by: obesity, genetic predisposition, age or trauma. Its diagnosis is based on anamnesis, patient history, physical and radiographic examination. OA treatments can be surgical or conservative depending on the case, and aim to relieve discomfort and delay the development of degenerative changes and it is impossible to revert to existing pathological changes.
Downloads
Download data is not yet available.
References
BETTS, J. G.; YOUNG, K. A.; JOHNSON, W. E.; POE, B.; KRUSE, D. H.; KOROL, O.; JOHNSON, J. E.; WOMBLE, M.; DESAIX, P. Anatomy and Physiology Textbook. 2013.
CALDEIRA, F. M. C.; MUZZI, L. A. L.; MUZZI, R. A. L. Artrose em cães, Caderno Técnico Veterinário e Zootécnico, n. 37, p. 53-83, 2002.
CHARD, J.; DIEPPE, P. Glucosamine for osteoarthritis: magic, hype or confusion? British Medical Journal, 322:1439-1440. 2001.
CLARK, D. M. Artropatia degenerativa, In: BIRCHARD S. J.; SHERDING, R. G. Manual Saunders: clínica de pequenos animais, 2. ed. São Paulo: Roca. p. 1230- 1233.1998.
D'ALTILIO, M.; PEAL, A.; ALVERY, M. Therapeutic efficacy and safety of undenatured type II collagen singly or in combination with glucosamine and chondroitin in arthritic dogs. Toxicology Mechanisms and Methods. 17:189-196. 2007.
DEPARLE, L. A.; GUPTA, R.; CANERDY, T. D. Efficacy and safety of glycosylated undenatured type-II collagen (UC-II) in therapy of arthritic dogs. Journal Veterinary Pharmacology Therapy. 28(4):385-90. 2005.
EPSTEIN, M.; RODAN, I.; GRIFFENHAGEN, G.; KADRILIK, J.; PETTY, M.; ROBERTSON, S.; SIMPSON, W. Pain Management Guidelines for Dogs and Cats. Journal of the American Animal Hospital Association, 2015; 51 (2): 67–84. 2015.
FINTERBUSCH, R. M.; URRUTIA, A. M. R. Comparación del control del dolor postoperatorio en la cirurgía de implantes entre ketoprofeno y traumeel s. 2013. 63 f. Dissertação (Mestrado) - Curso de Odontologia, Universidad Nacional Andres Bello, Santiago-chile, 2013.
FOX, S. M. Chronic Pain inSmall Animals, pp. 74-96, 1ª Edição, Manson Publishing. 2010.
GOLDBERG, M. A look at chronic pain in dogs. Veterinary Nursing Journal, 32, 37-44. 2017.
GUPTA, R. C.; CANERDY, T. D.; SKAGGS, P. Therapeutic efficacy of undenatured type-II collagen (UC-II) in comparison to glucosamine and chondroitin in arthritic horses. Journal of Veterinary Pharmacology and Therapeutics. 32: 577-584. 2009.
HEEL, Zeel® and Traumeel® Protocol to supplement current treatment with Glucosamine/Chondroitin products. Acesso: 18 mai. 2021.
IMAGAWA, V. H. Avaliação da eficácia analgésica de três doses diferentes da dipirona sódica em cadelas submetidas à ovariosalpingohisterectomia. São Paulo, 2006. 122f. Tese. (Doutorado em Ciências) – Faculdade de Medicina Veterinária e Zootecnia. Universidade de São Paulo, São Paulo, 2006.
JIA, L.; CHEN, J.; WANG, Y. Focused low-intensity pulsed ultrasound affects Extracellular matrix degradation via decreasing chondrocyte apoptosis and inflammatory mediators in a surgically induced osteoarthritic rabbit model. Ultrasound in Medicine & Biology, 42(1):208-219. 2016.
JU, L.; KE, F.; YADAV, P. Herbal medicine in the treatment of ulcerative colitis. Saudi Journal of Gastroenterology, v. 18, n. 1, p. 3, 2012.
KO, V.; HODENBURG, A.V.; EU, K. Pharmacokinetics and metabolism of gabapentin in rat, dog and man. Arzneimittelforschung, 36(5):830-839. 1986.
KOGEL, B.; TERLINDEN, R.; SCHNEIDER, J. Characterisation of tramadol, morphine and tapentadol in an acute pain model in Beagle dogs. Vet. Anaest. Anal., v.41, n.3, p.297-304, 2014.
LIPPIELLO, L.. In vivo chondroprotection and metabolic synergy of glucosamine and chondroitin sulfate. Clinical Orthopaedics and Related Research, v. 381, p. 229-240, 2000.
LOBOSCO, A.; C.; TRATAMENTO DA OSTEOARTROSE EM CÃES: Revisão de Literatura. Universidade Federal Rural do Semi-Àrido. Niterói-RJ, 2012.
LOESER, J. D.; TREEDE, R. D. The Kyoto protocolof IASP Basic Pain Terminology. Pain. v. 137, n. 3, p. 473-7, 2008.
MANGUEIRA, N. M.; XAVIER, M.; SOUZA, R. A. B. Effect of Low-Level Laser Therapy in an Experimental Model of Osteoarthritis in Rats Evaluated Through Raman Spectroscopy. Photomedicine and Laser Surgery, 33(3):145-153. 2015.
MATHEWS, K.A.; PETTIFER, G.; FOSTER, R.; MCDONELL, W. Safety and efficacy of preoperative administration of meloxicam, compared with that of ketoprofen and butorphanol in dogs undergoing abdominal surgery. American Journal of Veterinary Research. 62(6):882-8. 2001.
MILLIS, D.L.; LEVINE, D. Canine rehabilitation and physical therapy. Second edition. Saunders, Philadelphia, p. 784. 2014.
NELSON, R. W.; COUTO, C. G. Distúrbios das articulações. In:_____. Medicina interna de pequenos animais. 3. ed. São Paulo: Elsevier, p. 1045-1058. 2006.
OLIVEIRA, R. G.; ALENCAR - FILHO, E. B., VASCONCELLOS, M. L. A. A. A influência da piperina na biodisponibilidade de fármacos: uma abordagem molecular. Quím. Nova, v. 37, n.1, p. 69-73, 2014.
PETTITT, R.; GERMAN, J. Investigation and Management of Canine Osteoarthritis. In Practice FOCUS, novembro 2015 (1-8). 2015.
PIROTTA, M. Arthritis disease- the use of complementary therapies. Australian Family Physician, 39 (9): 638-640. 2010.
SARMENTO, F. M. Acupuntura no tratamento da dor em cães e gatos. Trabalho de conclusão de curso. 2014.
SCHMIDT, K.. M.; DOENÇAS OSTEOARTICULARES EM PEQUENOS ANIMAIS. Botucatu, 2009.
SCHULZ, K. Diseases of the Joints. In: Fossum, T. W., Small Animals Surgery. 1226- 1229, (4th ed.). United States of America: Mosby Elsevier. 2013.
SLUKA, K. A.; WALSH, D. Trancutaneous electrical nerve stimulation: basic science mechanisms and clinical effectiveness. Journal Pain, v. 4, n. 3, p. 109-121, 2003.
TATSUO, M.; CARVALHO, W.M.; SILVA, C. V.; MIRANDA, A. E. G.; FERREIRA, S.H.; FRANCISCHI, J. N. Analgesic and antiinflammatory effects of dipyrone in rat adjuvant arthritis model. Inflammation.18(4):399-405. 1994.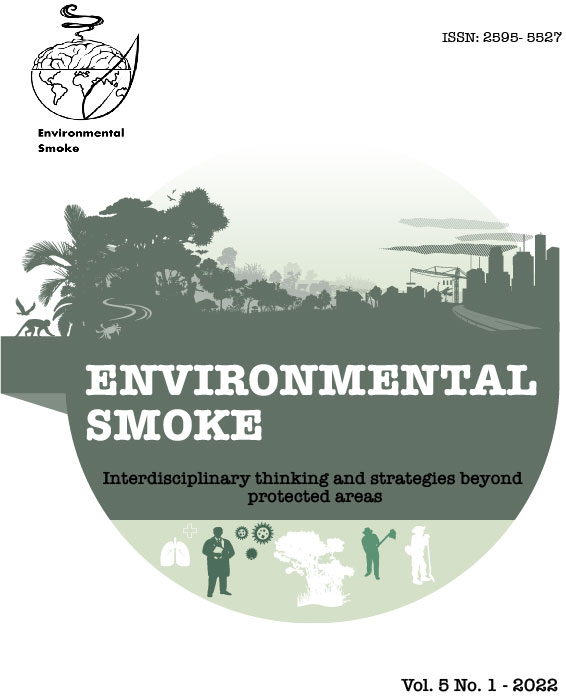 Downloads
How to Cite
Furtado, G. D., & Sobral, F. E. da S. (2022). PAIN MANAGEMENT IN DOGS WITH OSTEOARTHROSIS: A CASE REPORT. ENVIRONMENTAL SMOKE, 5(1), 20–25. https://doi.org/10.32435/envsmoke.20225120-25
License
Copyright (c) 2022 Gil Dutra Furtado, Felipe Eduardo da Silva Sobral
This work is licensed under a Creative Commons Attribution 4.0 International License.
The copyright for manuscripts published in Environmental Smoke belongs to the author, with first publication rights for the journal. The published articles are of total and exclusive responsibility of the authors.