HOSPITAL INFECTION CONTROL SERVICE PERFORMANCE IN A PARAIBAN PUBLIC HOSPITAL FACING THE COVID-19: EXPERIENCE REPORT
Abstract
Abstract. The Sars-cov-2 virus pandemic has been a major public health problem worldwide. Sars-Cov-2 was first mentioned in December 2019 in Whuan, China, where genetic changes were observed in viruses circulating in mid-2003 and 2012. The Sars-Cov and Mers-Cov epidemic spread in more than 30 countries, with a lethality of 30 to 40% of confirmed cases. Sars-CoV-2 was first notified by the World Health Organization (WHO) on 12/31/2019 and on 01/30/2020 it was notified as an international emergency. The first case of Sars-Cov-2 in Brazil occurred in February 2020 in the city of São Paulo, triggering several protective measures to prevent the spread of the virus. Paraíba had its first case confirmed on 03/18/2020 and in an attempt to contain the advancement of the coronavirus, several strategies were announced to contain the disease in the state of Paraíba, one of which was the installation of the solidarity hospital within the physical structure of the Hospital Metropolitano Dom José Maria Pires, which has become one of Covid-19's receiving or suspicious patient hospitals. Therefore, the present study aims to describe the performance of the Hospital Infection Control Service (SCIH) of the Metropolitan Hospital in the face of the COVID-19 pandemic. With the admissions of patients with severe acute respiratory syndrome, the SCIH's mission was to standardize protocols and flows to maintain the safety of patients and the multidisciplinary team. With the construction of protocols and flows, we conducted training to certify effectiveness and improve the actions developed. It is possible to point out that SCIH has been operating since the first cases of SRAG and COVID-19 admitted to the institution in a dynamic and face-to-face manner, taking actions to minimize the spread of the virus in the hospital and maintain the safety of patients and the health team.
Downloads
Download data is not yet available.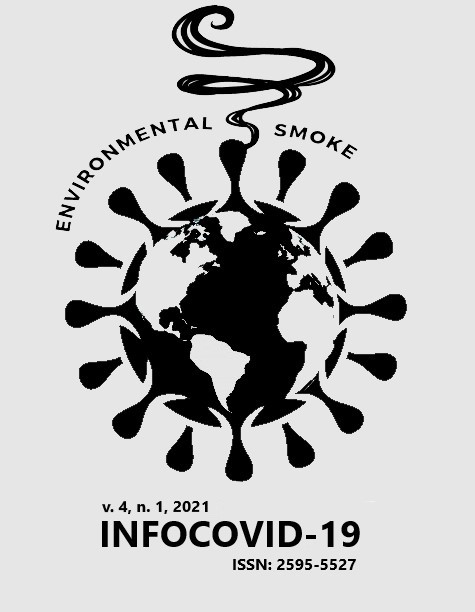 Downloads
How to Cite
Silva, A. dos S., Santos, G. D., Teodózio , G. C. ., & Cordeiro , K. J. da S. . (2021). HOSPITAL INFECTION CONTROL SERVICE PERFORMANCE IN A PARAIBAN PUBLIC HOSPITAL FACING THE COVID-19: EXPERIENCE REPORT. ENVIRONMENTAL SMOKE, 4(1), 35–47. https://doi.org/10.32435/envsmoke.20214132-43
License
Copyright (c) 2021 Gabrielle Diniz Santos, Adellucia Silva
This work is licensed under a Creative Commons Attribution 4.0 International License.
The copyright for manuscripts published in Environmental Smoke belongs to the author, with first publication rights for the journal. The published articles are of total and exclusive responsibility of the authors.